The Book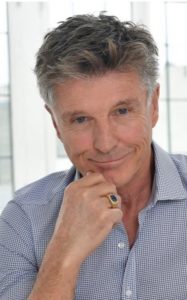 About the content:
The son of a farmer from the island of Fehmarn can already look back on a turbulent life: Diplom-Holzwirt, surf world champion, surf shop owner in Florida and Denmark, actor in Roland Emmerich's Stargate, fourteen years as advertising icon Herr Kaiser, ten years as Doc Sander on the Traumschiff (the German version of the American Love Boat) and many other roles in Germany, Denmark and the USA are on his extensive vita. What only a few people know, however, is that his life was much wilder than one might think!
Together with co-author and DPP award winner Björn Sülter, Wilder embarks on the paths of the past and in his memoirs tells the story of little Klaus Wilder, who was always supposed to be well-behaved, but quickly became acquainted with the wondrously winding paths of life: from Fehmarn to Hollywood, from the farm to the "Love Boat", from the surfboard to the advertising icon of an entire generation.
His memoirs are a reflection, a life guide, an adventure story and a journey through time at the same time, and somewhere between a road trip and self-realization, they tell of humorous, thoughtful and surprising anecdotes, as well as the highs and lows of a life that could not have been wilder!
Get to know the man behind Doc Sander from the Traumschiff (Love Boat) and the advertising icon Herr Kaiser in a whole new, surprising way!

---
The English version of the book is in the making.

If you order directly from the publisher, you can even get a signed book. Also gladly with dedication, however you would have to bring up for it some patience, since Nick is not always in Germany. Feel free to click on the link here!
https://www.ifubshop.com/biografien/hallo-herr-kaiser-das-leben-ist-wilder-als-man-denkt/
Once the english version is published you will be able to get it in bookstores or order at Amazon or other online book sellers.
In any case, I wish you a lot of fun with the book! You will not regret it.
---
When Nick met with his co-author Bjoern Sülter on November 9 at the Carat Hotel in northern Germany to work on the final phase of his biography, he found himself in the middle of a lockdown due to the pandemic. The NDR TV-network featured Nick in a story about "luxury hotels in times of pandemic lockdown" in northern Germany.
---