Biography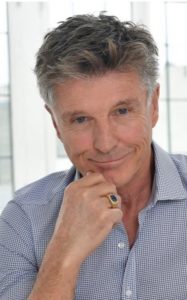 Name:
Born as Klaus Wilder, Calls himself Nick Wilder since 1982
Birthdate:
03. December 1952, Sagittarius
Birthplace:
Island Fehmarn, Germany
Eye color:
Blue
Hair color:
Originally dark blond, now mottled gray
Height:
5′ 11¾"
Residence:
He has lived in Hamburg, Denmark, Florida and Los Angeles. One could also add the MS Deutschland and the MS Amadea, on which he filmed for the ZDF series "Das Traumschiff" in his role as "Doc Sander" for about 7 months per year (and that for 10 years).
For over 20 years, however, the center of his life has been in Montana, USA and South Tyrol.
Married:
He has been married to the actress Christine Mayn
since 2001.
Languages:
German, Low German, English, Danish, he knows perfectly. In Swedish and Norwegian, he can also converse (and various dialects Nick also has up his sleeve).
Sports:
Wind/surfing, sailing, water skiing, horse riding, diving, golf and much more.
What can't this man actually do? 😉
Music:
Guitar, ukulele and harmonica, especially blues harp.
He also has a great voice!
Worldchampion:
1977 in tandem windsurfing
---
When you get right down to it, Nick found his path to acting quite late in life. And Nick is so much more than just an actor, because he has already done so much in his life and has experienced some incredible adventures. At 17, his rock & blues band "Flangia Kaiphos" was voted the second-best school band in Germany in a nationwide competition held by the German BILD newspaper.

At 18, he was already hitchhiking across the USA. In Denmark he started his own windsurfing school at the age of 25, while he was studying for his degree in wood economics at the University of Hamburg. At the age of 28 he ventured across the pond and opened his second retail store "Windsurfing Madness" in Fort Lauderdale, Florida. Simultaneously, Nick started a modeling career in the US that eventually got him into the movies. His first TV appearance in the US happened in 1984 in the fifth episode of "Miami Vice".
Then, in 1991 he sold his business, moved to Hollywood and devoted himself fully to study acting. After several roles in various US soaps and a few B-movies, Nick was then seen in the   Science fiction blockbuster "STARGATE", by Roland Emmerich.

That was the beginning of Nick's great journey that continues to this very day and that I, Mel Schulz, would like to share with you here on this fan page. If you want to learn more about the eventful life of Nick Wilder, you should definitely read his biography "Hallo Herr Kaiser! Life is Wilder than you think.", which was just published in December of 2020. (The English version of his biography will be out soon). We'll talk about his biography as well, but in a later post. I can highly recommend it to you, because you will learn many more things about Nick and will probably shake your head in amazement more often than once, because his life was and still is "wilder than you think".

Nick's heart and soul is in the US. Together with his wife, Christine Mayn, they have been living their dream in the Wild West of Montana for more than 20 years. There, the two have created a true paradise on their estate TING, where you can even stay as a guest and book their
"TING Guesthouse". http://www.ting-montana.com

A Fanpage about Nick Wilder created by Mel Schulz. So have fun reading all about Nick.
Yours truly Mel