Mon., 08. August 2022
© Ready Set Live / Gary Quinn
Tue., 11. May 2021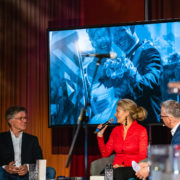 Shown will be a rebroadcast of the May 07, 2021 livestream event by and featuring Nick Wilder. Nick will be there in a live chat and answer questions as well.
Sat., 06. February 2021
Nick auf dem roten Sofa mit Inka Schneider. Whoever speaks German can watch it on the NDR livestream. As soon as possible the interview will be uploaded with English subtitles.